At the TUC Digital Lab, we seek to develop solutions for the union movement, in the most sustainable and effective way. These are the 8 principles we try to follow in our work (v1.0).
The 8 principles are a work in progress, and will likely be refined over time, as we start to apply them in our work. They will help us to be better project partners for unions, and help keep us focused on what digital transformation means in a union context.
In seeking to define these, we worked with senior colleagues from 10 different unions and digital design charity CAST, hosted by Google, to establish what could be common in all our approaches. The work is freely available for unions to adapt and use however they wish in their own programmes.
Why define principles for this?
Often we set goals when we embark on a new project – clear targets so we know when we've met them and whether the project worked.
That works well where big areas of the scope are defined and under our control – where we know we'll largely be able to use the methods that have worked for us in the past to get the job done. The work is a good fit for the culture we already have to get this kind of thing done.
It becomes more difficult in digital change projects though. The changing environment increases the unknown factors. The number of moving parts that we need to keep an eye on increases. And the speed and responsiveness we're able to bring to bear in the project means we have new opportunities to change course as we go.
It's still obviously important for us to have a vision and a goal in these cases, but where the work doesn't fit our culture so well, we also need to consciously think about how we are going to do it, not just what we are going to do.
One tool that many companies and voluntary or government organisations are using to help them here is a set of digital principles.
These principles set the broad direction we want to be taking in our digital transformation. They help us to know what good might look like in areas where we don't yet have a complete picture of the terrain.
The principles aren't designed to be exact rules for digital work – we can't be that prescriptive. But if we use them as a sense check, they can help us correct course where we might be deviating down less useful paths for us.
Many organisations find that being overt about their digital principles has useful outcomes in changing culture. We recently took some union colleagues along to visit Co-op Digital's offices in Manchester. There we found tastefully designed posters all over the walls, reminding the teams of different aspects of the Co-op's own set of digital design principles. That kind of conscious effort means that over time, doing things in a new way becomes a new part of the organisation's culture.
Familiarity with the principles helps everyone stay on the same page. That's particularly helpful where methods like user research or an iterative approach as new concepts for an organisation's core work.
Armed with a common language in these areas, team members can better understand why others are doing something, and have a framework for resolving differences of understanding.
That transparency effect can extend to stakeholders that we involve in our projects – something that's pretty common with digital transformation.
We'd be interested to hear what you think about our own draft principles, and unions are welcome to take and adapt the work in their own projects – wholesale if you like, or pieces that you know would be more useful to you.
What other organisations are using
Check out some other sets of digital principles that organisations use:
Download the poster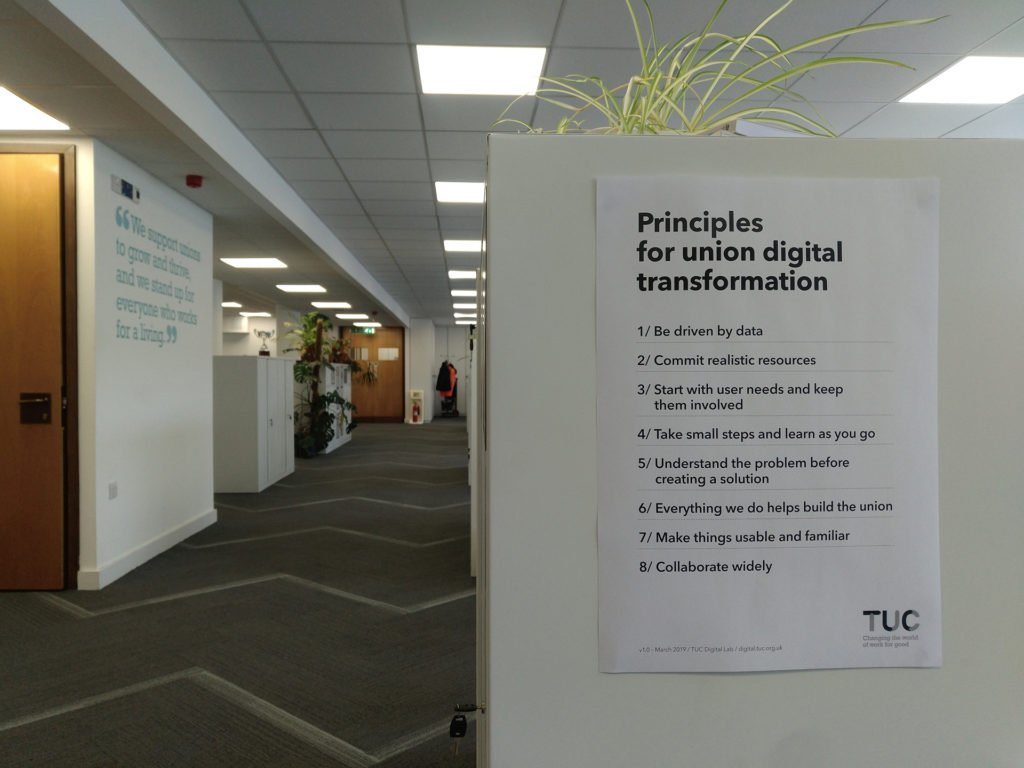 We've made a poster to help keep our principles visible at all times. Download a pdf of it here.
Download the report
We have also provided the content of this post as a pdf report formatted for printing and including the A4 poster. Download it here.